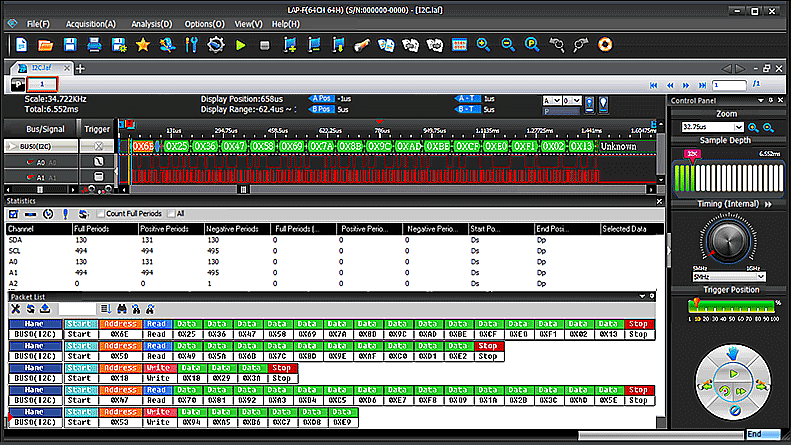 Bus Triger

Users can set the packet as the trigger condition according to different protocol analyzer statuses, so as to trigger on the just position quickly and acccurately.

Trigger Level

The LAP-F1 lets users use up to 4 different Trigger Levels at a time; one for each of the four port A, B, C and D.

Acquisition Setup

Acquisition/Trigger Setup choices such as channel assignment, Sampling mode and the Trigger Setup dialog box. This is also where users can adjust the voltage threshold for triggering and configure a DSO connection.

Trigger Position
The trigger position determines which samples are stored.

Statistics
it can display the quantity of positive period, negative period, full period, etc.in channel or set the time period to check if any period is out of the range.

Sample Rate

The sample rate or acquisition frequency determines how often samples are taken.

Waveform Unit Switching

Users can switch the value unit to time, frequency or sampling site.

Add Bar
Users can insert up to 250 additional bars. When adding a bar the user can select color and where it should be positioned (in time). The bars will automatically be named A0-A9, B0-B9 etc.

Packet List
By presenting the packets in list form, the Packet List facilitates observation and analysis of all packets and their relation. Only packets under a protocol decoder can be displayed.

Operating Systems

Windows 2000,XP,Vista,WIN7,WIN8.1,WIN10。

Sample Depth
Determine the amount of data to be acquired per channel.

trigger column

It has six trigger conditions: Don't Care, High, Low, Rising Edge, Falling Edge and Either Edge.